A brief history of Hiram Lodge, Prague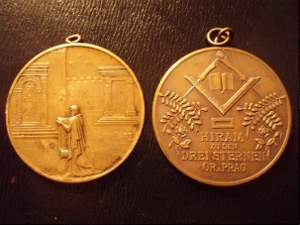 Hiram Lodge (original name Hiram zu den drei Sternen, Hiram at the Three Stars) was founded 17 November 1909 in Prague. There were 42 Founder members. The ritual consecration took place on 2 May 1910 in Bratislava.
It was the first modern lodge to be established in Prague for 125 years. The structure of freemasonry at that time in the Austro-Hungarian Empire was somewhat peculiar and asymmetric. The Empire had one Emperor, Francis Joseph, but two monarchies and consequently two governments and parliaments.
In the Austrian part of the monarchy, to which Vienna and Prague belonged, freemasonry had been forbidden since 1795. Whereas freemasonry was legal and had been allowed in the Hungarian part of the monarchy from 1867. Budapest and Bratislava (Pressburg in German and Poszony in Hungarian) belonged to the Hungarian part of the monarchy. The symbolic Grand Lodge of Hungary, based in Budapest had lodges widely spread over today`s Hungary, Slovakia, Croatia, Serbia and parts of Romania (Transylvania) and Ukraine (Ruthenia). The membership reached around 7000 brethren. It maintained an official relationship with the United Grand Lodge of England.
Vienna, which is close to Budapest and Bratislava, had a growing and educated middle class who had significant potential to be freemasons but by the laws of the Austrian monarchy they could not establish lodges there. Lodges were therefore established in Bratislava, only one hour's travel from Vienna. All open lodges and rituals were done there, whereas in Vienna only charitable associations were registered which held "humanitarian" lectures. In total there were 12 Viennese lodges, based in Bratislava operating in this way. This Grenzlogen (Border Lodges) moved after WWI to Vienna, where they could now freely function under the democratic constitution of the new Austrian Republic.
Around 1900, Bohemia had few hundred freemasons. Most of them had been initiated into the Viennese Grenzlogen. Others were members of lodges in neighboring Prussia, Saxony, Bavaria or even in more distant places.
The brethren were mostly businessman, traders, lawyers, doctors or artists, who traveled throughout in Germany and Austria and through their business contacts had been introduced to lodges there. At home they had formed so- called Masonic clubs in Plzen, Karlovy Vary, Marianske Lazne, Zatec, Teplice, Liberec and other places.
In Prague they formed two Masonic clubs: Amicitia and Harmony with a total of nearly 70 brethren.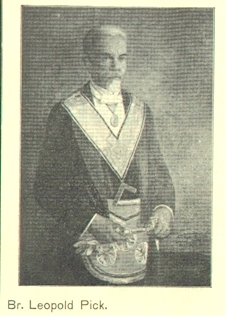 The founding father of Hiram, the first modern lodge in Prague was Bro Leopold Pick.
He was a banker in Vienna, where he had been initiated in 1887 in the lodge Schiller. Being wealthy, he retired early to Prague where he devoted his time and energy to Masonry.
Bro Pick became a member of the circle Amicitia, but felt masonry could only be lived in a regular lodge and nothing else.
He undertook all the necessary steps and achieved permission of the Symbolic Grand Lodge of Hungary to establish Lodge Hiram zu den drei Sternen. A total of 42 Brethren joined as founders. Of these, 28 came from the circle Amicitia and 14 from the circle Harmony.
3. The first Lodge Meeting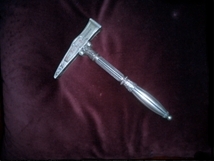 On 17 November 1909 the first lodge meeting took place at the rooms of the Amicitia club, in Nekazanka 7, in Prague 1.
Over 90 brethren attended, of which 36 were members and 54 guests. Guests came from lodge Schiller, Vienna/Pressburg, lodge Lessing, Vienna/Pressburg, Masonic club Munifitientia in Carlsbad, Masonic club Harmony Prague; lodge Fridrich August in Zittau Germany and others. Bro Leopold Pick was elected the first WM of Hiram.
The language of the lodge was German, but there were also 7 Czech speaking members. The aim of the lodge was also to be open for Czechs to join masonry and later to promote Czech-speaking lodges.
To commemorate the occasion, the Masonic club Harmony presented the WM Bro Pick with a silver hammer.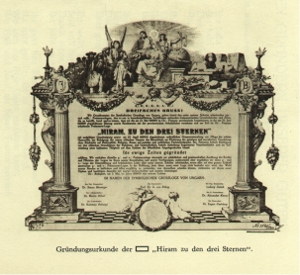 On 2 May 1910 Lodge Hiram was officially and ritually consecrated in Bratislava. The Deputy Grand Master Dr Meissinger conducted the ritual ceremony.
At the same meeting six new members were initiated.
The lodge met the 1st and 3rd Tuesday of the month. Brethren dressed in regalia. Internal messages were read as well as news from Grand Lodge communicated. Ballots were taken and a lecture by Hiram members or guests was nearly always given.
Initiations, passing and raisings were done in Bratislava.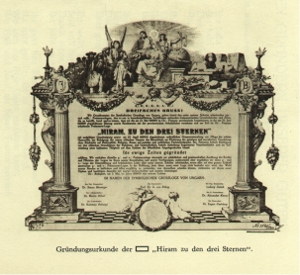 In the period 1910 – 1914, all ritual meetings of the lodge took place in Bratislava. As the journey was long, 6 to 9 candidates were initiated at the same time.
One open lodge was held in Budapest on 12 November 1912. It was a most impressive and monumental meeting, as there were 9 candidates initiated in the presence of the Grand Master Dr Von Bokay, many Grand Officers and 181 guests.
In this period many Czechs were initiated, who later played a leading role in establishing the first Czech lodge. Among them was Bro Jaroslav Kvapil, who wrote the libretto of Dvorak`s opera Rusalka.

During World War I, the lodge was not very active. Only infrequent, occasional informal meetings took place. When the independent Czechoslovak Republic was proclaimed in October 1918 it adopted a democratic constitution. So after 124 years it was once again legal to form a Masonic lodge in Prague. The WM of Hiram stated at a festive meeting on 28 May 1918, that it was an historic moment, that a ritual meeting in full Masonic regalia could take place in Prague again.
The Czech members of Hiram resigned and formed the first Czech speaking lodge Jan Amos Komensky in 1919 which became later one of the founding lodges of the National Grand Lodge of Czechoslovakia.
Hiram resigned from the Symbolic Grand Lodge of Hungary and revived its activities completely in Prague and together with lodges from Karlovy Vary and Zatec formed in 1920 a new Grand Lodge Lessing at the three Rings.
The period 1920 -1934 was marked by a steady growth of membership. About 10 candidates per year were initiated; mostly 4 to 6 were initiated together. When the Silver Jubilee of the Lodge was celebrated in 1934 the Lodge membership was 134 brethren; 144 ordinary members, 2 honorary members and 26 frequent visitors. It was the largest lodge in the country.
The founding father and first Worshipful Master Leopold Pick was followed as WM by brethren: Berthold Thein, Artur Gotzel, Julius Katz, Otto Adler, Eugen Tauber, Hugo Wetheimer and Fritz Bondy.
In addition to being the founding lodge of the Grand Lodge Lessing, Hiram was also directly or indirectly involved in the establishing of the lodges: Jan Amos Komensky-Prague, Freilicht-Prague, Piette-Plzen, Zu den wahren vereinigten Freunden-Brno, Fides im Tale der Arbeit-Ostrava and Adoniram zur Welkugel in Prague.
In the course of time Brethren of Hiram held their meetings at many different places. In the days of Imperial Austria it was at restaurant Bigalsky in Jeruzalemska, Hotel Englisher Hof at Na Porici 9, Hotel Blauer Stern at Na Prikope 34, Brewery Julius Reitler, Brewery in Stepanska 40, Napoleon Room at the Central Station, at the Restaurant Black Horse at Na Prikope 28, and own premises at Goldenes Kreutzel at Nekazanka 7.
Between 1918 and 1930 a well-equipped lodge loom was used in the Old Town Square. This belonged to the lodge member Bro Schmolka. All Prague Lessing lodges, including Hiram moved in 1930 to their purpose build and furnished Masonic Hall in Trojanova, where they stayed until 1938.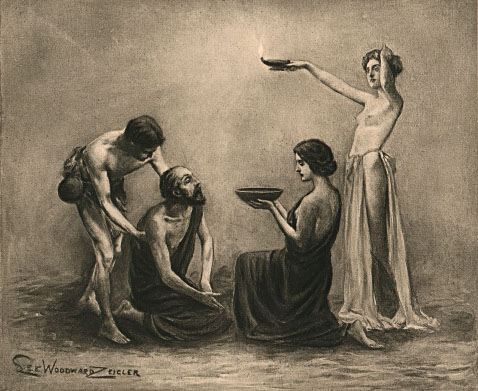 Hiram was very active in charity. In the years 1924-1934 more than 680.000 Czechoslovak crowns were spend.
Support was given to widows and orphans of brethren and brethren in distress. There were many activities supporting children and youth. Also active support was give to the Deaf Mute institute in Prague.
International relief was given to the victims of an earthquake in Bulgaria and victims of the famine in Russia. The economic crises of 1929-1933 resulted in many unemployed for which the lodge organized food supply. Help was also given to refugees from the imminent Nazi tyranny.
8. 1938 – And re-establishment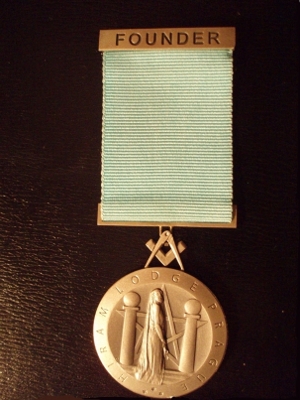 In late September 1938, immediately after the Munich agreement, all lodges in Czechoslovakia including Hiram voluntarily ceased their activities.
The records of what happened to Hiram Brethren during and after the war has yet to be properly researched. A large majority of the brethren were Jewish and their chances of survival after the horrors of the Second World War and the Holocaust was slim. Those who survived might have emigrated after the War to Israel or the United States. The non-Jewish German-speaking brethren were certainly forcibly expelled in 1945 from Czechoslovakia to Germany or Austria.
It is sad to see; that the great and mighty lodge Hiram with its wonderful community of true brethren came to such an end and the brethren split up in such a brutal manner.
The Lodge remained inactive during the appalling years of communism.
More than 60 years passed until internationally oriented masons in Prague re-established Hiram on 19 June 2004 as an English speaking lodge under the constitution of the Grand Lodge of the Czech Republic. They thus paid tribute to the original founders of Hiram by promoting the Masonic fraternity across national borders, religions and races.